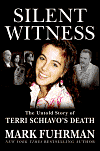 Silent Witness: The Untold Story of Terri Schiavo's Death
The scheduled release date for this book is June 28. (Release dates are always subject to change, of course.) The ISBN is 0060853379. It's available for pre-order on several sites.
According to
this book description at the harpercollins.com
website:
...In Silent Witness, former LAPD detective and New York Times bestselling author Mark Fuhrman applies his highly respected investigative skills to examine the medical evidence, legal case files, and police records. With the complete cooperation of Terri Schiavo's parents and siblings, as well as their medical and legal advisers, he conducts exclusive interviews with forensics experts and crucial witnesses, including friends, family members, and caregivers.