The grand opening of the Kam Wah Chung Visitor Center in John Day, Oregon, is tomorrow, with Oregon's first lady Mary Oberst and Rep. Greg Walden among the dignitaries. The Kam Wah Chung & Co. building served as a social center for the early Chinese community in Oregon - and herbalist Ing Hay of the Kam Wah Chung was extremely popular with non-Chinese residents as well. I've heard many stories of people driving for hours just to consult him, and almost as many stories of people who claim that they or a relative were saved by "Doc Hay" after being written off by other doctors. He is also rather famous for not cashing checks, but that's another story. All in all, I'd have to say he's one of the most beloved historical figures we have in this part of the world.
The following book was out of print and hard to find for a while, but it's been reissued by Binford & Mort Publishing, trade paperback ISBN 0832303461. The co-authors are Jeffrey Barlow and Christine Richardson.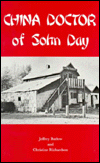 China Doctor of John Day
The building shown on the book cover is the Kam Wah Chung. It was constructed in the mid-1800s as a trading post, and is now a museum.
For more on the Kam Wah Chung, see
www.oregonstateparks.org/park_8.php
From the Grant County Chamber of Commerce website's
page on the Kam Wah Chung
:
In 1887, two young Chinese immigrants, Lung On and Ing Hay purchased the building on the site in John Day, Oregon and made it their home and the social and religious center of the Chinese community. Lung On operated a general store to supply miners and the public in the area, sold "bootleg" whiskey during prohibition, sold the first automobiles in Eastern Oregon in 1909 and was an advocate for the Chinese. Ing "Doc" Hay was a master of herbal medicine and pulse diagnosis and operated a lucrative practice in the building until 1948...
Actually, I should probably amend my earlier statement. Lung On and Ing Hay, together, are two of this area's favorite historical figures. There are pictures of them on the Chamber of Commerce page.