This book, you may have noticed, is stirring up a bit of fuss here and there, especially amongst the Clinton crowd. The release date is tomorrow. Click on the book cover for basic information from Barnes & Noble.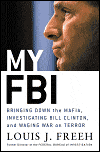 My FBI: Bringing Down the Mafia, Investigating Bill Clinton, and Fighting the War on Terror
Update: For whatever reason, the book cover link is going to the Barnes & Noble front page instead of directly to the book in question. I've redone the link, but to no avail. I'll keep working on it, but for now you'll have to take the extra step of typing in the book info and doing a search. Sorry about the inconvenience.