Update: Welcome Mommy Life readers - and
mea culpa
. To be honest, I had never done a trackback in my life and when I ran across the
Wizbang Standalone Trackback Pinger
I thought that even I could make that work so I grabbed a post that linked to another blog and tried it and it worked. First time! Yay! And
then
I wondered if this post of mine rated a trackback from Barbara's blog, and (so late smart) realized the honest answer was no, not really, not unless people coming from her post go all the way to the end here and follow the links to
Wittingshire: Raising Men
. (So here's a direct link, up front.)
Original post follows.
Barbara Curtis, one of my favorite former feminist radicals, thought that behavorial differences between girls and boys weren't inborn but the result of how they were raised - and then she had a son. Oops. Hello innate differences.
She's kept her eyes and ears open since then, and brings some experience and study to the table on this issue. Check out
Mommy Life: The Truth About Boys and Girls - Part One
for some of what she's learned over the years.
Barbara is the author of several books:

Dirty Dancing at the Prom and Other Challenges Christian Teens Face: How Parents Can Help

Mommy Manual: Planting Roots That Give Your Children Wings

Lord, Please Meet Me in the Laundry Room: Heavenly Help for Earthly Moms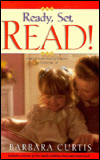 Ready, Set, Read!: A Start-to-Finish Program Any Parent Can Use

Small Beginnings; First Steps to Prepare Your Child for Lifelong Learning
P.S.
Raising Boys
links to a previous post by Barbara as well as to a post by Amanda Witt of Wittingshire, who also has found sons to be different than daughters.