The title-linked column begins:
Having finished a new book on the late Justice Harry Blackmun, and eyeing the run-up to the John Roberts confirmation, I've got a question: How did abortion become the central issue in American politics?
And concludes:
We may depend on Steinem and such to weigh in heavily concerning John Roberts. The last thing they want is jurists who might challenge their power through the assertion of constitutional principles different than their own: principles from a time when, to Americans, life came before mere power.
The book he uses as the launching pad for this column is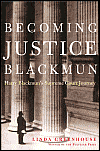 Becoming Justice Blackmun: Harry Blackmun's Supreme Court Journey